It's been 2 weeks since I felt I was hearing clearly again for what's in front of me. It helped that I was away from the noise of doing, working & serving. And it helped that I was at a church camp (
Gateway City
's 1st) - where there was plenty of time to hear from God directly & through the 5 camp speakers too.
Before I goh on... a few more images from camp...
1st time ever I could frame a church camp photo vertically!
Had to space everyone out a bit for a horizontal shot, and so that I could get in too! =)
Sitting, swinging, splashing & surfing.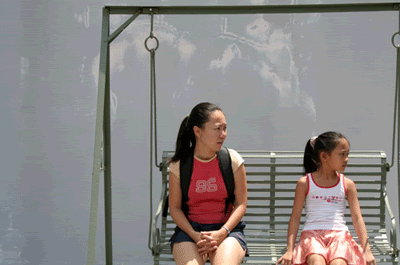 Camp was at Stella Maris, where sky views from the balcony took up quite a bit of space in my cf card.
Although I didn't manage to write about what spoke to me at camp right after I returned from Penang as I had intended, having this past 2 weeks of time, trials & thought actually added extra dimension to what the Lord seems to be bringing me to & through.
Strangely enough, while I was waiting for things to become clearer before I blogged about it, something my pastor said to me during the good 2 hours I spent with him and his wife this evening made me realize that I'm simply in a fuzzy waiting period where certain things just won't be clear till they're given time.
So now I write with a clarity that what I'm writing about is fuzzy! Yes, this may be a somewhat boggled blog. But since it's chiefly for my own benefit that I blog this out, feel free to skip the text in this post and just look at the photos.
Whenever I can't lock in on a particular structure to my thoughts, I'd start with a chronological order and hope it'll all take some logical-enough shape from there. So here's what has been impressed on me from camp and since then:
1. "wait"
One of the camp devotions for personal reflection was about waiting for instructions. To go only so far as God reveals... give Him time and He'll make it clear. Later that day Pr Sam was talking too about how we can't rush the presence of God and how we can't rush our leaders while God is developing them. And when you're the leader, He may bring delays through a leadership factor in you. An oak tree, he said, takes 130 years to grow 35 storeys high.
Perhaps that's why I can't seem to be able to make a totally clear conclusion yet - it keeps getting compounded and I keep getting confounded. As Pr Chris & Aunty Stella helped me to realize today - I still need to be waiting. And not trying to plan my next move to the minute detail. And not trying, albeit subconsciously, to fit God into that detailed schedule.
2. "release"
At the last camp session,
Pr Selina
illustrated the need to "flush out the dirt", to "throw off everything that hinders (Heb 12:1)" otherwise we can't focus on what we are supposed to. At church later that day she shared the story of a father asking his daughter to give back a ring he had given her and although she struggled to understand why, she did and her father gave her an even more beautiful ring. When we give the Lord something good, He gives us something better.
This flashed me back to the time I had followed the PTCM (Pastoral Training Centre M'sia) class to Penang Hill in 2001 I think, and there was this high wire exercise that I took part in. We each had to walk from one end of a tightrope (about 10 feet off the ground) to the other. Hanging down from another wire above us, there were ropelines that you would hold onto to help you move across. The thing was - you couldn't take hold of the next ropeline until you let go of the one you were currently holding. This has been the most powerful lesson I've learnt in releasing something in order to move forward.
Flash back from flashback to sunday service (4 May 2008) at Gateway: Part of
Pr Ed
's sermon was about releasing the areas of our life that we've been "lording" over, that have been precious to us.
I know this is a big part of what the Lord is reminding me about - "Release what you have now - it doesn't compare with what I will give you." "Release your dependency on what you have helped to build, it doesn't compare with what I will build." "Release how far you think you can go with your name, or your church's name - it doesn't compare with My Name." That line from the song Mountain of God pipes into my head... "Nothing can quite compare with what's in front of me".
3. "listen"
During dew-votion last Thursday, Pr Eng Eng shared a passage that I then spent a lot of time reflecting on and even shared at cell on Friday. (Luke 10:41,42) - "Martha, Martha," the Lord answered, "you are worried and upset about many things, but only one thing is needed." What was that one thing needed that Mary did? She had sat at Jesus' feet and listened. (v39)
I've been trying to read Prince Caspian again before I goh watch it. I say "trying" because my dad has been hijacking my book, and he and my mum have already gone to watch the movie! Anyway, the thing that struck me yesterday after hijacking the book back was the part about Lucy not following what she sensed Aslan was asking her to do but going with the rest of the lost party when she was out-voted. When she encounters Aslan again, this is what she says: "I couldn't have left the others and come up to you alone, how could I?" Aslan says nothing. Lucy: "You mean... that it would have turned out all right--somehow?" Later she speaks to the others: "I'll have to go with him whether anyone else does or not."
It's not that I listen or don't listen to so many people or even to a few... but am I listening to Him? It's not that I need or don't need the audience and approval of people... but am I seeking & yearning more for the audience and approval of the One who matters most?
"One thing I have desired of the LORD, that will I seek: That I may dwell in the house of the LORD all the days of my life, to behold the beauty of the LORD, and to inquire in His temple." (Psalm 27:4)